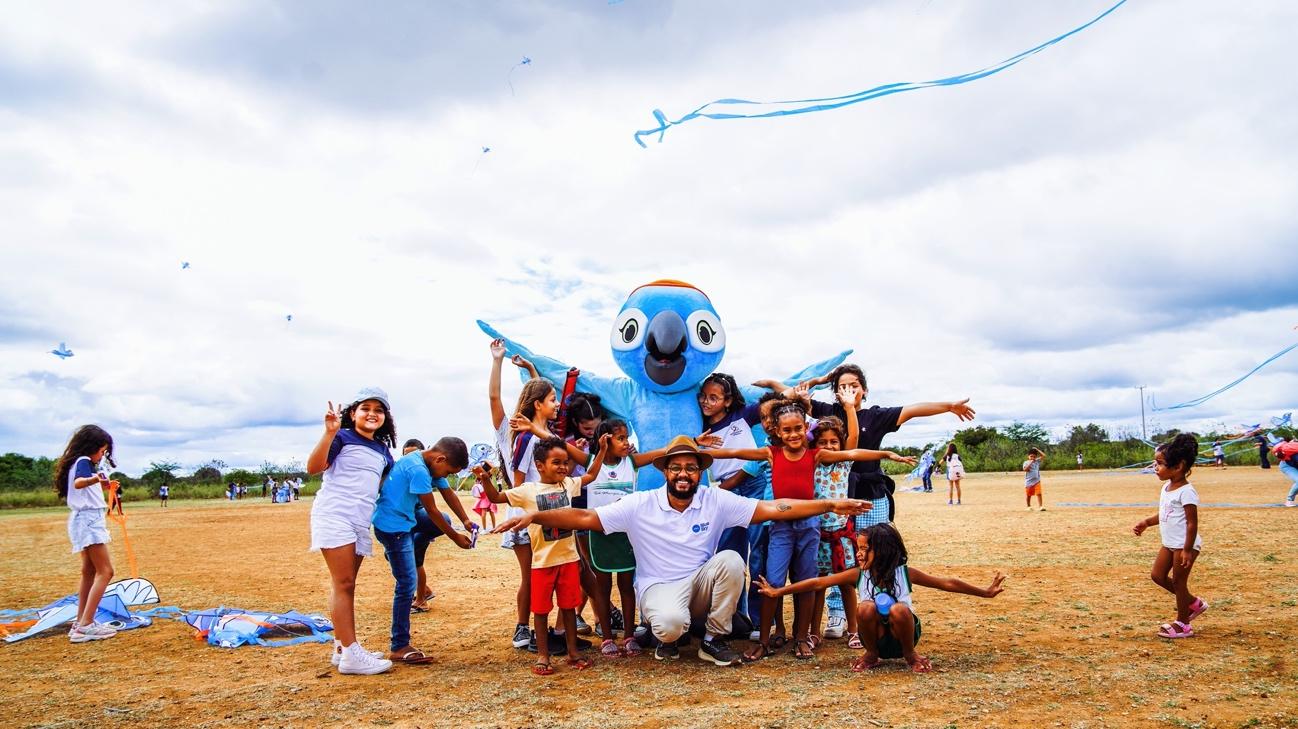 Tita Ararinha and Bluesky Project: Environmental Awareness and Preservation of the Spix's Macaw Take Center Stage at Tita's Kite Launching Event
On World Environment Day, celebrated on June 5th, the Tita Ararinha project, in partnership with Bluesky, gifted us with a truly magical moment! They unveiled the Tita Kite – a creative and enchanting initiative aimed at showcasing the captivating Spix's Macaw and nurturing a sense of environmental responsibility in the young minds of today. Imagine a kite that isn't just any kite, but a vibrant representation of the beautiful Spix's Macaw, meticulously crafted to make learning about environmental preservation a fun and exciting experience for children.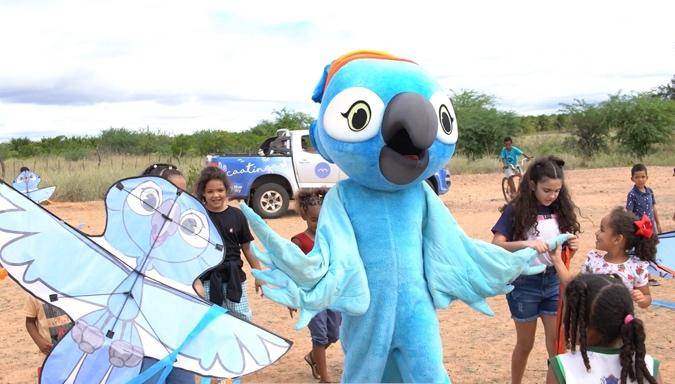 But here's where the adventure gets even better: 100 enthusiastic children from Colégio Auxiliadora Petrolina and the Nova Jatobá quilombola community, nestled in the rural heart of Curaçá, came together in an emotional spectacle for the launch of the Tita Kite. As the sun painted the sky with hues of wonder, these energy-filled children released a fleet of 100 Tita Kites, each carrying a message of hope for the magnificent Spix's Macaw. As if that wasn't enough to inspire awe, they also joined forces to plant a group of caraibeira trees – an essential link to the survival of the Spix's Macaw. And there's more – these young environmentalists received insights into the Spix's Macaw reintroduction project, catching a glimpse of the extraordinary journey of these majestic birds.
This triumphant initiative is a radiant beacon of how imagination, fun, and the power of education can intertwine in perfect harmony. It's a vivid reminder that learning about our environment doesn't have to be dull; it can be an exhilarating adventure that sparks young minds and cultivates a lasting love for our planet. So let's raise a toast to the Tita Kite, a symbol of soaring hope that spreads awareness and proves that when we come together, we can create a world where education and fun walk hand in hand!
Victor Flores, environmentalist, writer, and creator of the Tita Ararinha project, underscores the significance of the Tita Kite in instilling early environmental awareness among children: "The Spix's Macaw is a symbol of our wildlife, and it's our duty to do everything in our power to protect it. The Tita Kite is an inspiring way to forge connections with children, caregivers, and the environment, promoting environmental preservation through emotional memories," emphasizes Flores.
"The Tita Ararinha project has been a wellspring of inspiration for our students. After incorporating Tita's storybook into our curriculum, our students have wholeheartedly engaged in learning about the Spix's Macaw, extending beyond the confines of the classroom. Undoubtedly, they will have 'Many stories to tell.' The partnership with Colégio Nossa Senhora Aparecida has been a valuable construct, enabling our students to expand their knowledge and share experiences, thereby enriching their learning journey. We're thrilled about this collaboration and believe it will contribute to nurturing conscious citizens actively engaged in environmental preservation," states Flavia Fonseca, Pedagogical Coordinator at Colégio Auxiliadora.
Ugo Vercillo, biologist and director of BlueSky, expresses his delight in being part of this initiative and contributing to environmental awareness among the new generations: "BlueSky and ACTP firmly believe in investing in projects like Tita Ararinha, which aim to conserve endangered species and raise societal consciousness about the importance of environmental preservation. The Tita Kite is a playful and educational way to encourage children to care for the environment and ensure a sustainable future for all."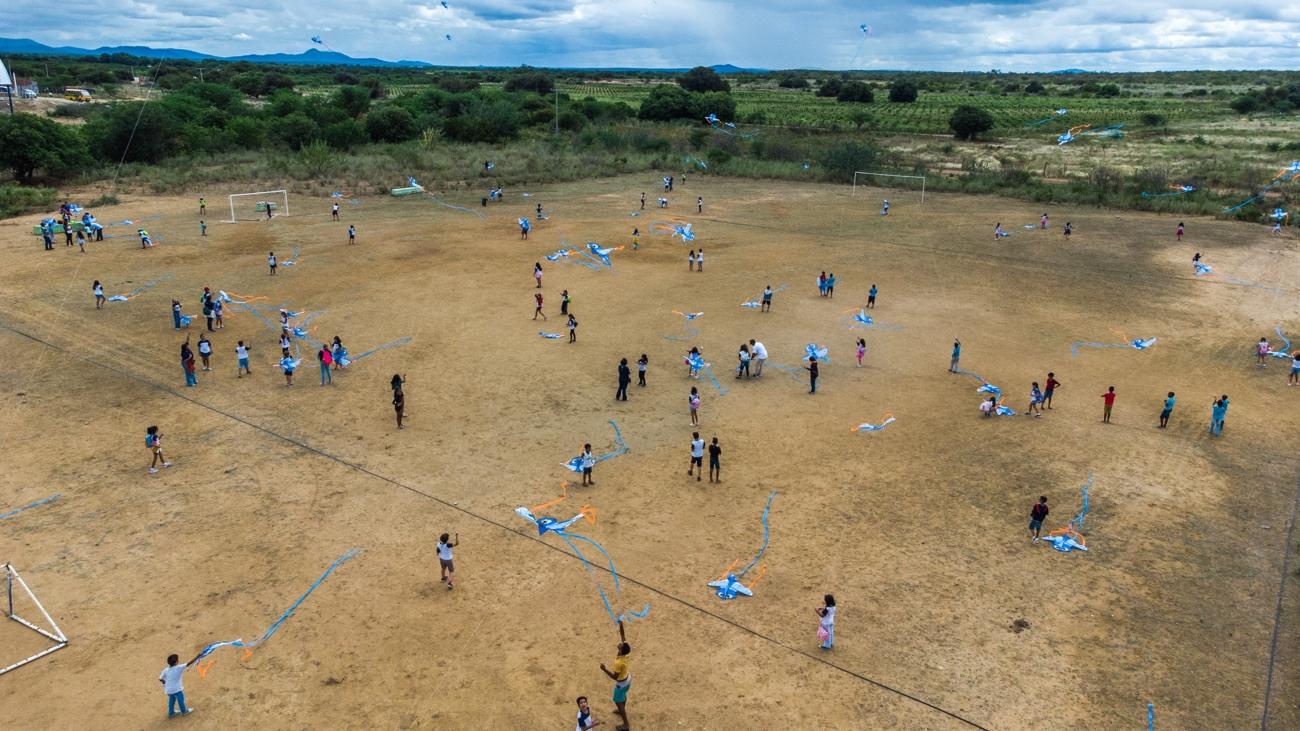 About the Tita Ararinha Project
The Tita Ararinha Project, conceived by environmentalist Victor Flores from the Brazilian hinterlands, aims to promote environmental awareness through literature and audiovisual content, with a special focus on the preservation of the Spix's Macaw and the appreciation of the exclusively Brazilian biome where it resides. The project has already published four literary works, with "Tita and the Mystery of Old Chico" gaining national prominence following its launch at the International Book Biennial in Recife in 2021. Moreover, the project features a touching animated music video and a trilingual short film, both available on the AzulPlay platform. These initiatives seek to awaken environmental consciousness and engage people in protecting this endangered species, providing an educational and inspiring experience.
About the Spix's Macaw
Considered extinct in the wild since the 2000s, the species was reintroduced in June 2022, with eight Spix's Macaws and eight Maracanãs (a type of parrot) acting as instructors. In December of the same year, an additional twelve Spix's Macaws and seven Maracanãs were reintroduced. The reintroduction is the result of a partnership between the German NGO ACTP and ICMBio, and it is part of the National Action Plan for the conservation of the species involving many partner institutions. The gentle release of the birds has been successful so far, with the survival rate of reintroduced Spix's Macaws at around 57%, surpassing initial survival expectations of 30% to 64% within one year of release.
In this context, it is crucial to join forces to address the global climate crisis and build a greener and more just future for all. The launch of the Tita Kite represents a significant step in this direction, engaging children and communities in environmental awareness and the appreciation of the Spix's Macaw. The Tita Ararinha Project and Bluesky invite everyone to explore and become part of this initiative. For more information, visit the official websites at www.victorflores.org and www.blue-sky-global.com/bluesky-caatinga. To learn more about the Tita Ararinha Project and Bluesky, visit the official websites and follow their social media channels. Let's come together to create cherished memories with nature and make a difference for our planet.