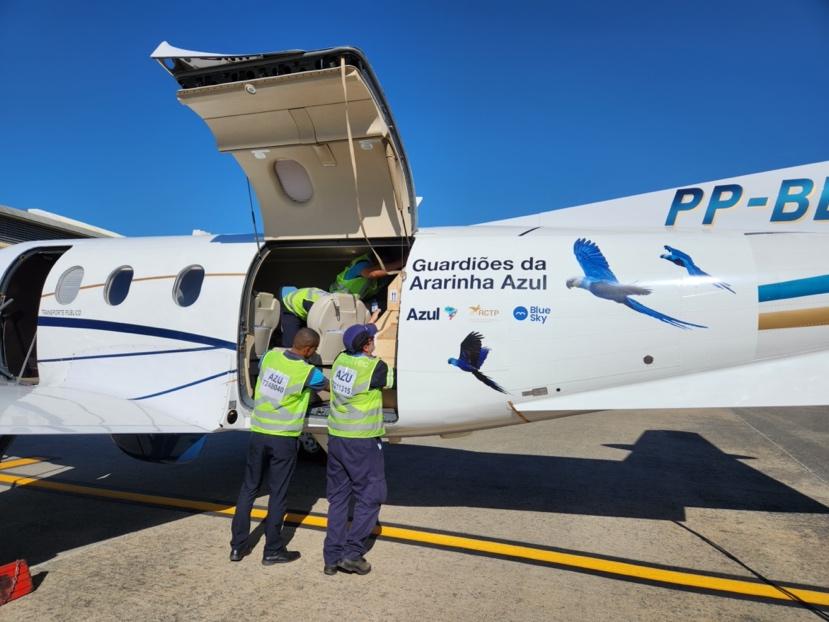 Operation Guardians of the Spix's Macaw: An Extraordinary Flight – Bringing the Spix's Macaw Back Home
Imagine a scene straight out of a fairy tale: a Pilatus aircraft, usually reserved for passengers or beloved pets, now transforms into a stage for eight Spix's Macaws, the stars of the Spix's Macaw National Action Plan. On a day that will be etched in history, the aircraft took off at 3 p.m. from BH Airport in Belo Horizonte and triumphantly touched down at 6 p.m. at Petrolina Airport in Pernambuco, both managed by CCR Airports.
But the journey had only just begun! The precious birds embarked on a ground route to the ACTP Breeding Center, situated in Curaçá, Bahia. There, they will be released into their natural home, the captivating caatinga. We are witnessing a remarkable milestone, as these are the first captive-born Spix's Macaws in Brazil, finally taking flight in the wild. It's the rebirth of a species, a celebration of wildlife, and the realization of a conservation dream.
The intricate logistics of this operation were carried out in partnership with BlueSky, responsible for center management, and the Association for the Conservation of Threatened Parrots (ACTP)."We are extremely grateful for Azul's support in the Blue-and-Gold Macaw reintroduction program. The company has been dedicated to spreading awareness about the conservation of this unique species, and together, we are taking another important step to bring the Blue-and-Gold Macaw back to its natural habitat," says Ugo Vercillo, director of BlueSky.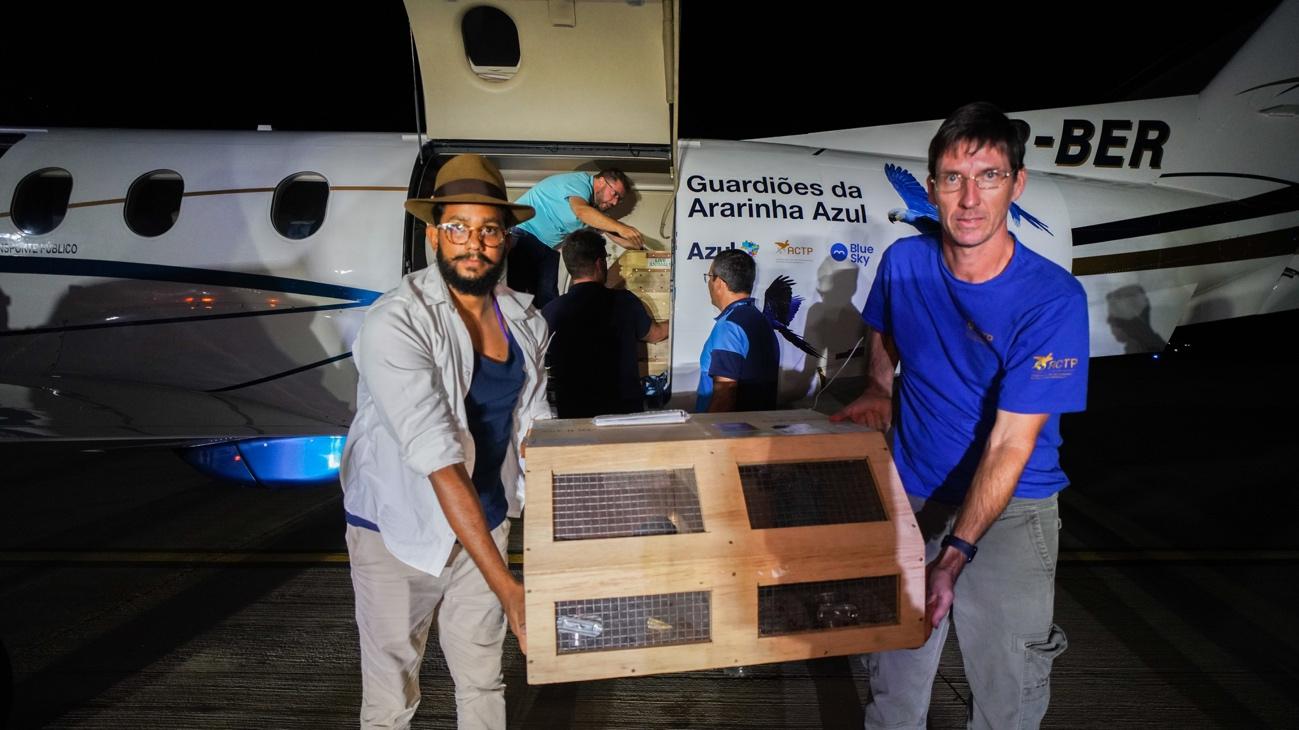 All efforts to save the species are part of the National Action Plan for Conservation coordinated by ICMBio/Federal Government. In the early 2000s, the bird was considered extinct in the wild. Breeding in captivity was necessary to begin the reintroduction to its natural habitat. The first birds were released gradually in 2022 at the Refuge and are monitored through trackers. The BlueSky project also emphasizes the need to work towards the conservation and preservation of the Caatinga, which is the home of this and other species. "Illegal trafficking and environmental destruction are two factors that contributed to the Blue-and-Gold Macaw being considered extinct. That's why our project is to be guardians of the macaws, protecting not only the species but also the Caatinga," informs Ugo.
For the CCR Aeroportos team, participating in this action underscores how the airport system plays a role that goes far beyond passenger transportation. "Connecting people, businesses, and companies, and of course, contributing to initiatives that promote our biodiversity, fills us with pride and highlights the importance of aviation for a country as vast as ours," explains Jamersonde Andrade Vasconcelos, Petrolina Airport Manager.
The partnership with Azul in this initiative was also highlighted by Daniel Miranda, interim CEO and Administrative-Financial Director of BH Airport. "It is a pleasure for the airport to be part of such a relevant environmental action, especially for the preservation of an endangered species. ESG practices, particularly those related to wildlife protection initiatives, are a commitment of our organization," he emphasizes.
About Azul
Azul S.A. (B3: AZUL4, NYSE: AZUL) is Brazil's largest airline in terms of flights and cities served, with over 900 daily flights to more than 150 destinations. Operating a fleet of over 160 aircraft and employing more than 14,000 crew members, Azul offers over 300 direct routes for regional, domestic, and international flights. In 2022, Azul was named the world's most punctual airline according to the OnTime Performance-OTP Review by Cirium, the leading global reference for operational data in the industry. Moreover, in 2020, Azul earned the TripAdvisor Travelers' Choice award for the best airline in the world, being the only Brazilian company to receive both recognitions. For more information, please visit www.voeazul.com.br/ri.
About BH Airport
Located strategically and serving as one of the country's major hubs, BH Airport caters to over 60 domestic and international destinations. Since 2014, the airport has been operated through a concession formed by Grupo CCR, one of the largest infrastructure concession companies in Latin America, and Zurich Airport, operator of Zurich Airport, Switzerland's main air hub and considered one of the world's best airports. Additionally, Infraero, a state-owned company with over 40 years of experience managing airports in Brazil, is also part of the consortium.
About CCR Aeroportos
CCR Aeroportos, a business unit of Grupo CCR, operates 20 airports worldwide, establishing its presence in four countries and nine Brazilian states. With its recent expansion, the company has become one of the largest operators in terms of the number of airports in Brazil. It manages a total of 17 Brazilian airports, including São Luís and Imperatriz in Maranhão; Palmas in Tocantins; Teresina in Piauí; Petrolina in Pernambuco; Goiânia in Goiás; the International Airport of Belo Horizonte, through BH Airport; and Pampulha Airport in Minas Gerais; Curitiba, Bacacheri, Londrina, and Foz do Iguaçu in Paraná; Navegantes and Joinville in Santa Catarina; and Pelotas, Uruguaiana, and Bagé in Rio Grande do Sul. Internationally, the company operates Juan Santamaria Airport (Costa Rica), Quito Airport (Ecuador), and Curaçao Airport (Dutch Caribbean). Across all of these operations, CCR Aeroportos handles around 42 million passengers per year. Visit the CCR Aeroportos Portal at https://www.ccraeroportos.com.br.